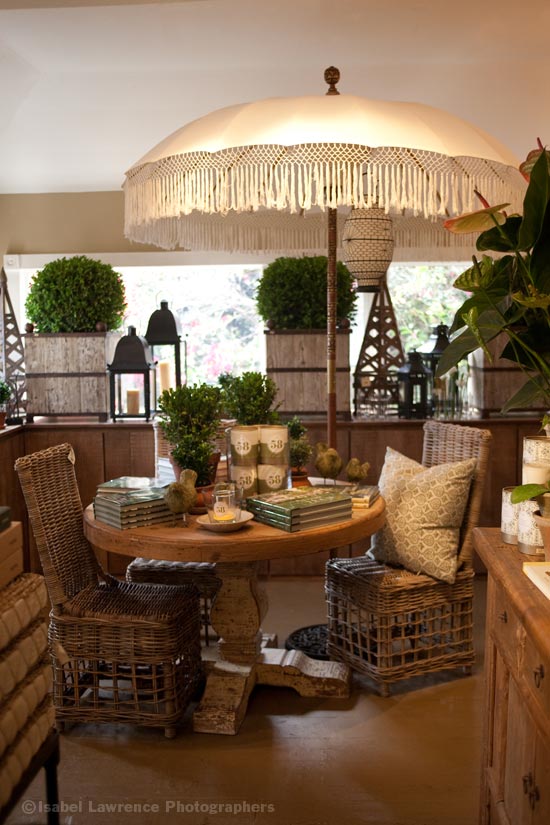 Yeah! It's Wednesday and I'm so excited to divulge another one of my Happy Places, Botanik in Summerland.
Summerland is a tiny charming beach town nestled between Carpinteria and Santa Barbara. Its main street is home to a variety of shops and restaurants – my favorite being of course, Botanik.
What makes this shop so special? For one thing, the décor changes seasonally. The day I was there photographing this piece, it was an oasis of eastern tranquility. I was especially taken by the serene Buddhas peaking out from forests of potted orchids. A soothing green palette underscored the various tableaux. The next time I pop in, the entire place will look entirely different – maybe it will be decked out in autumnal finery or it will resemble the French countryside. Walking in here is always a delight and a surprise. I wouldn't dream of setting a holiday dinner table without picking up a set of faux bois vases or a trio of potted succulents. Which brings me to another fantastic aspect of Botanik – the garden section.
Erin the owner has a wonderful selection of terracotta pots and cast iron urns. They are the perfect vessels to showcase the many different types of succulents she carries. I adore these types of plants but sadly, don't always know how to display them. Luckily there are lots of artfully potted plants sitting in the perfect containers ready to go.
If you're not already familiar with this gem of a shop, you must visit soon. I promise, you will be as smitten as I am.
www.botanikinc.com
Hours: Monday – Saturday 10am to 5:30pm Sunday 11am – 4pm
Phone: (805) 5653831