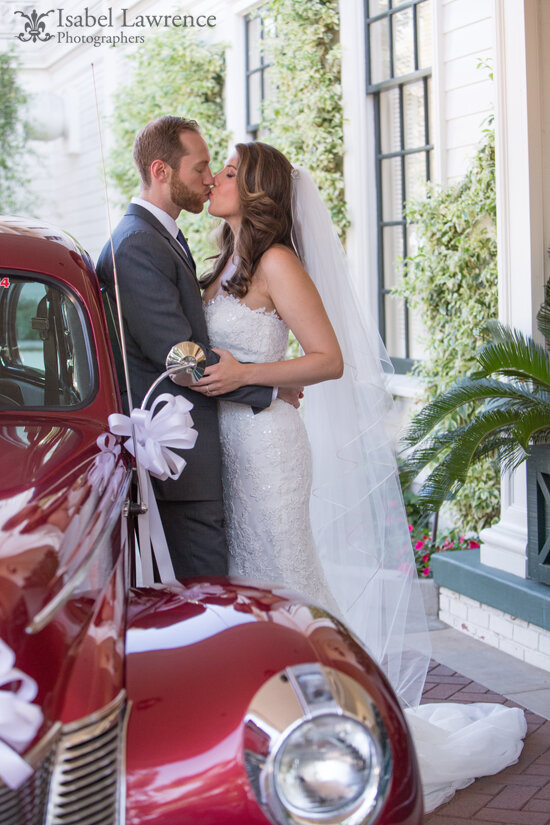 It's been so nice getting to know Kim and Jesse. Their lovely wedding was held at a private club in Pasadena. This red vintage beauty was on loan from a family member and made for a sensational prop!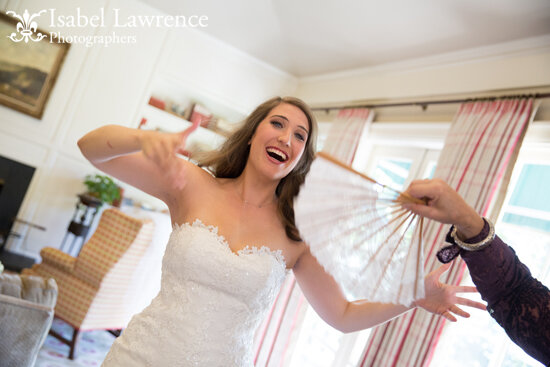 During the getting ready portion of the day, Kim had a little attack of the nerves. Luckily, the ever-prepared Jennifer of Joie de Vivre was able to cool down the situation with a pretty lace fan.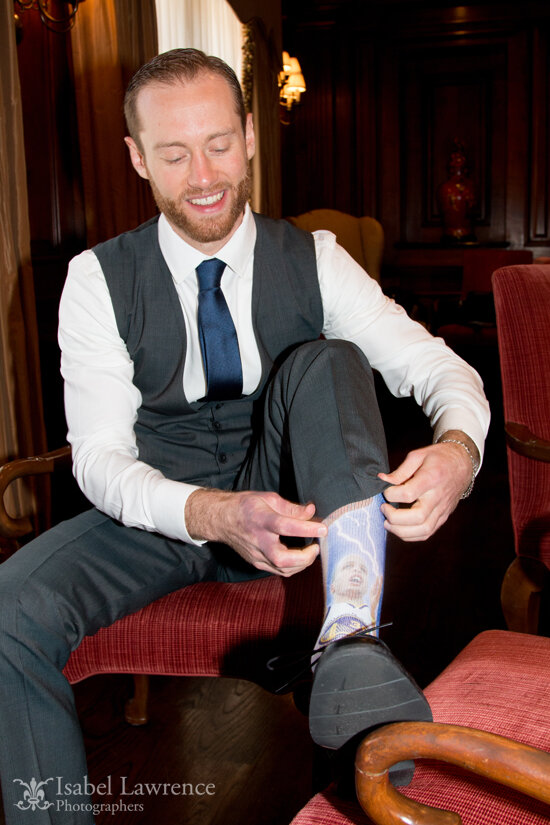 Our handsome groom was sporting some snazzy socks. He not only looked dapper, he was showing his team spirit.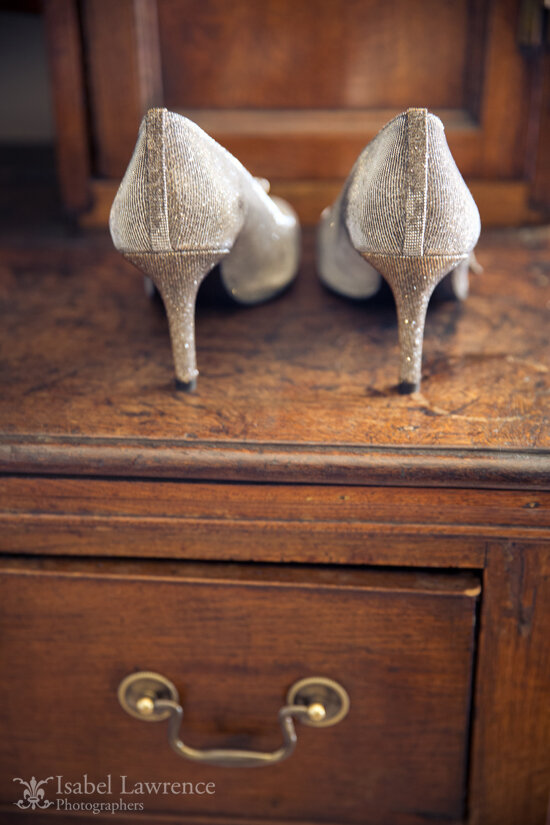 Kim was crazy about her Stuart Weitzman shoes and with good reason. They are gorgeous!

Ixora Floral Company created stunning bouquets and arrangements.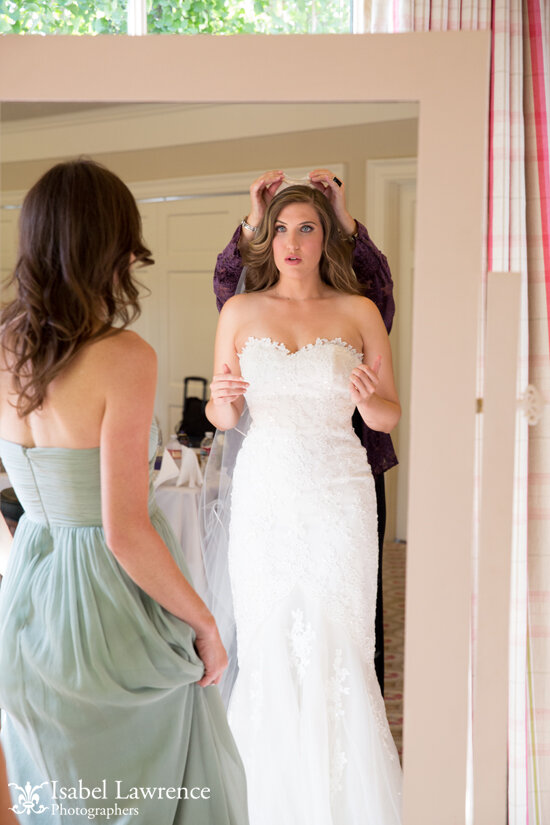 Beautiful!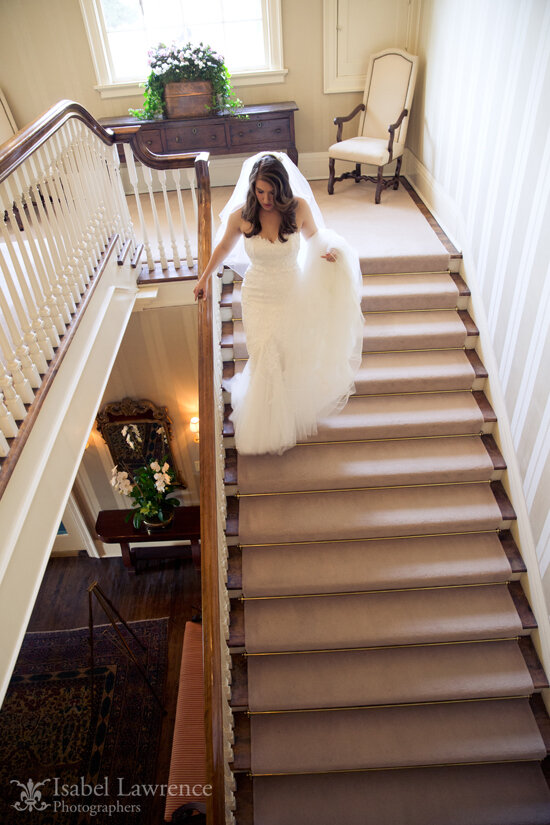 As soon as we walked into the door of this place, I knew we had to incorporate this staircase into the photos. I'm sorry I wouldn't let you take the elevator Kim, but I hope you think this photo made the extra steps worthwhile.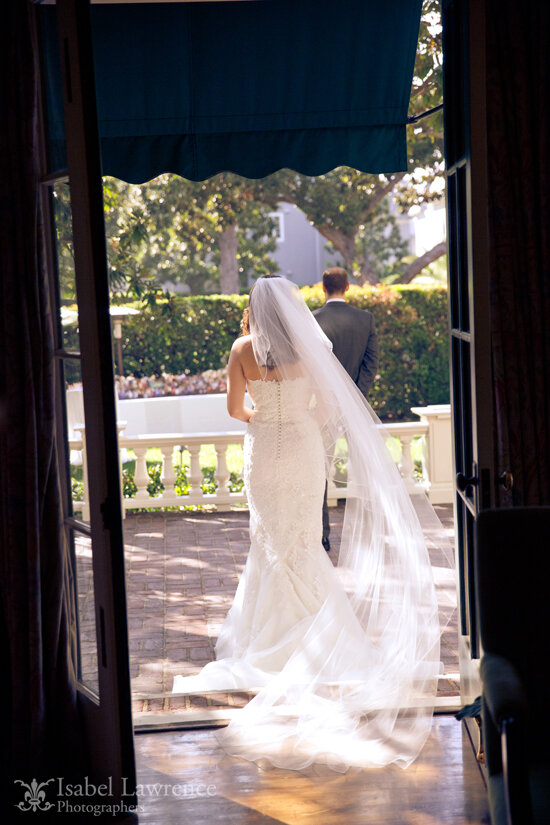 One of my favorite photo ops of the day, the big reveal!

Jesse seems to like what he sees.

Not to be outdone by his gorgeous bride-to-be, Jesse strikes a very dashing pose. This photo reminds me of an old Hollywood movie still.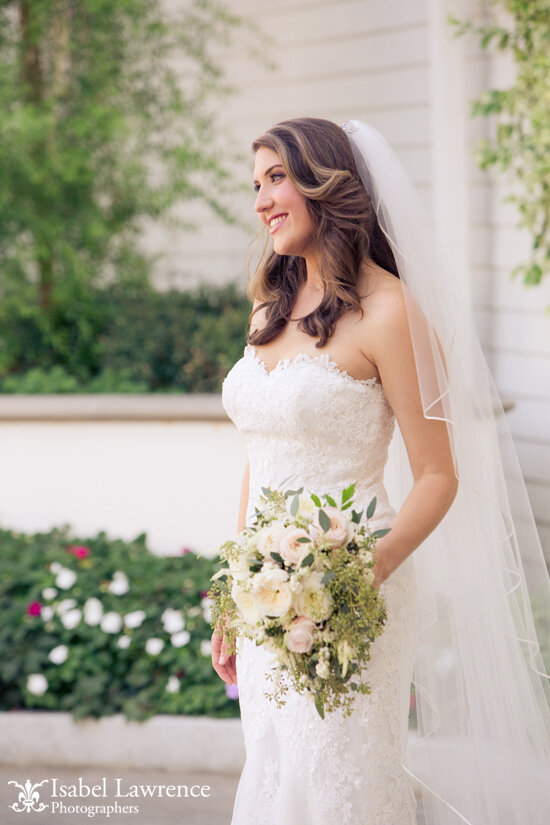 I love how Kim's love for Jesse radiates through this image.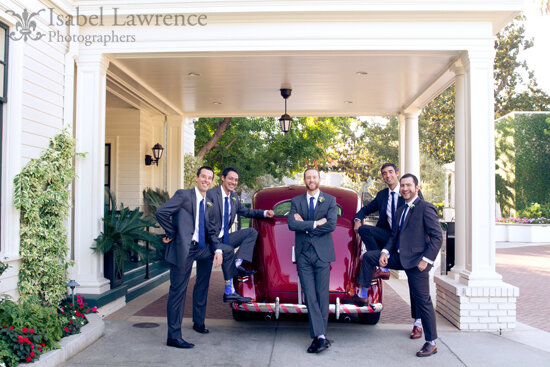 Such handsome boys!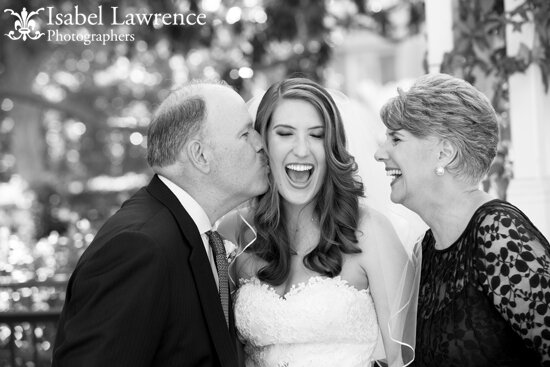 To me, this is the quintessential family shot. It's infused with humor, life and love.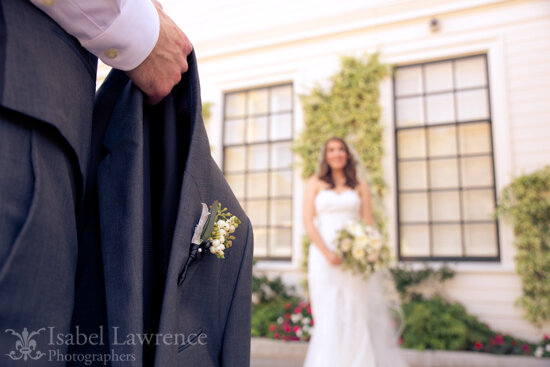 This is one of my favorite images that Larry made that day.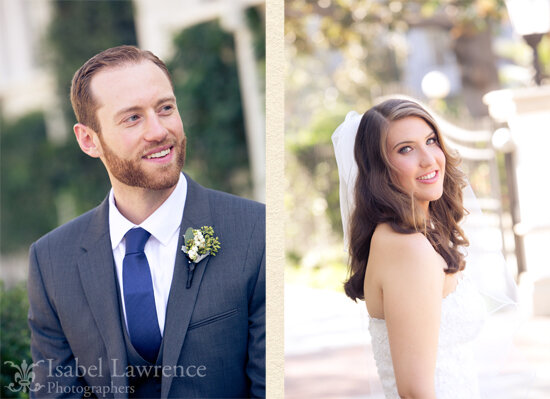 It's nearly impossible to take a bad photo of these two.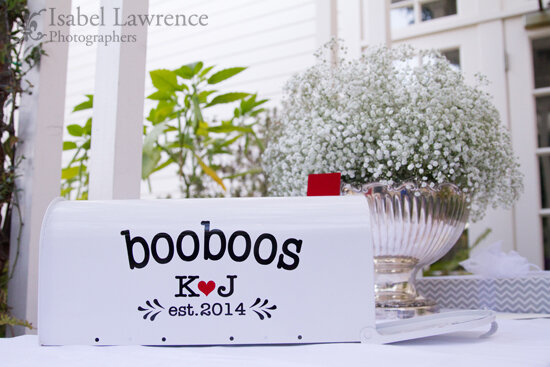 This has to take the prize for the most creative "guest book" I've ever seen. This pretty mailbox imprinted with their nickname for each other, holds cards written by guests.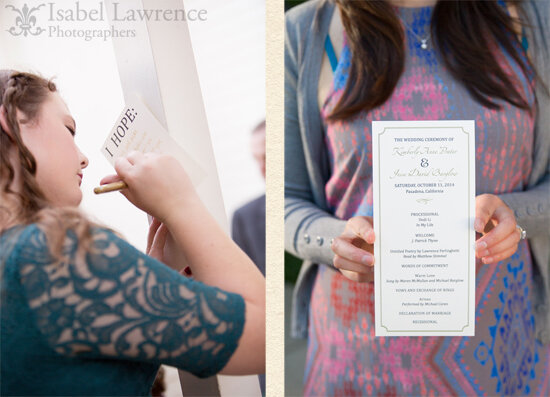 The cards had prompts on them like: "I hope" and "Always remember"…friends and family then offered up some words of wisdom for the newly-weds.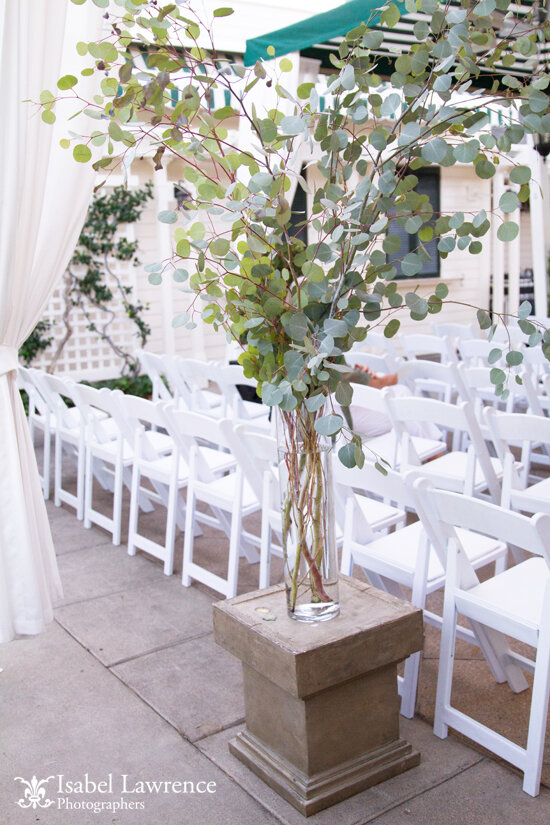 Large urns with a simple array of leaves set the stage for the ceremony.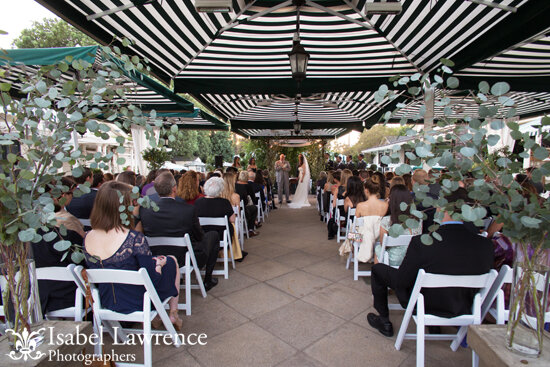 A colorful canopy made for a cozy setting.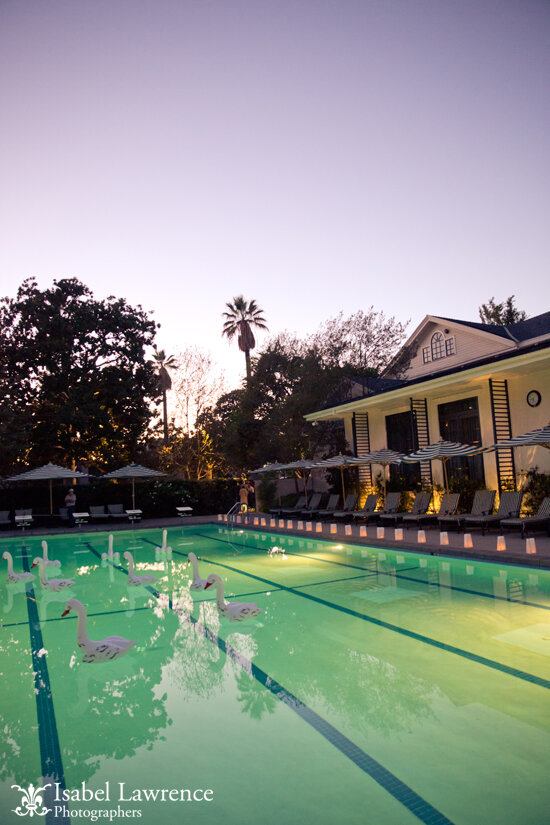 Another charming detail…inflatable swans bobbing in the pool.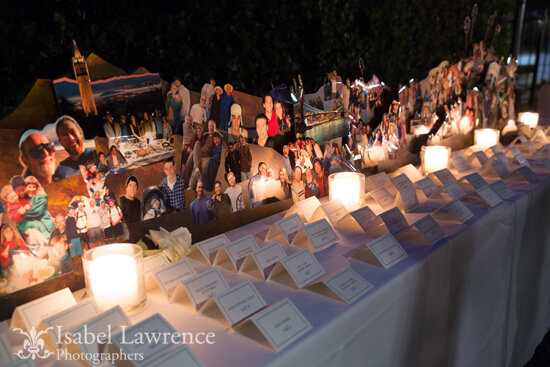 If you've been reading this blog with any regularity, you know I'm a big fan of personal photos being incorporated into wedding decor. This collage took it to the next level. Guests really enjoyed perusing all the different images as they went to retrieve their escort cards.

I think this club has the loveliest ballroom.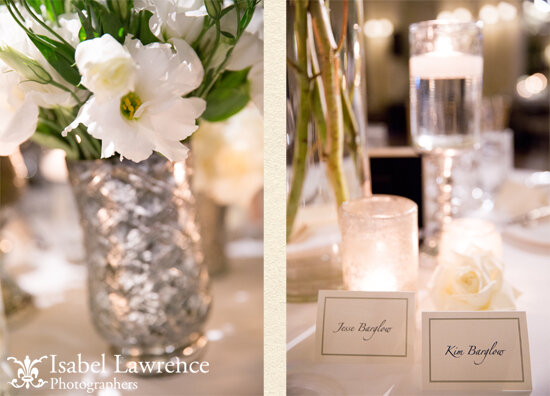 More of Ixora's elegant floral design…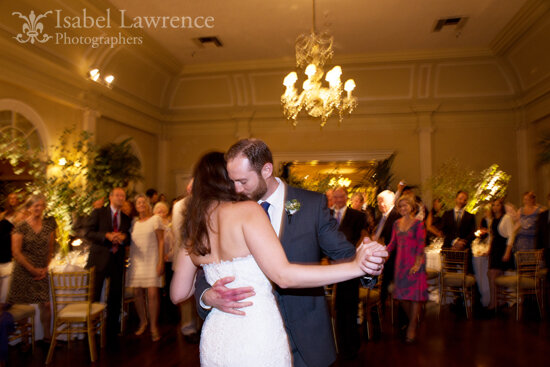 Another one of my favorite moments – the first dance.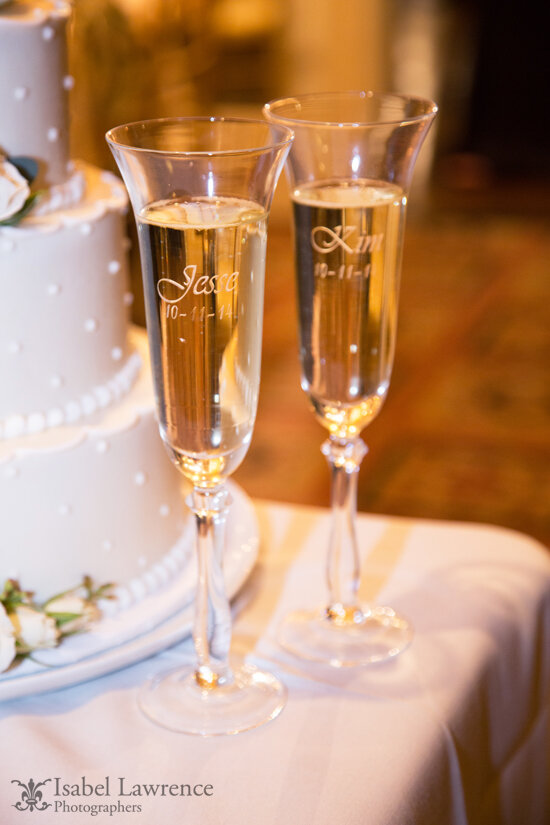 Kim and Jess, we wish you both all the best in your new lives together!
To see Kim and Jesse's engagement session, click here.
Comments Off

on Kim & Jesse