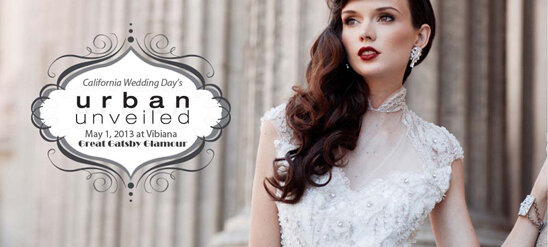 Things have been beyond crazy for us these past couple of months. We'll be making a couple of big announcements soon but while the dust is settling, I thought I'd let you know about our involvement with Urban Unveiled.
Urban Unveiled is presented by California Wedding Day magazine and will take place at the gorgeous Vibiana in downtown L.A on May 1st. If you are in the midst of planning your wedding, you must attend! This will not be the typical bridal show housed in a cavernous convention hall with a million and one vendors clamoring for your attention. Only the very best wedding professionals have been invited to participate and we are thrilled to be in such fine company.
The theme is "The Great Gatsby" so you know there will be lots of luscious eye candy and because the show will be intimate and carefully curated, you will have the opportunity to assemble a team of some of the best vendors in Los Angeles.
Of course, there will be lots of wonderful nibbles and cocktails on hand so be prepared to combine a little pleasure with your business! 🙂
You can find out lots more about this wonderful event and purchase tickets at California Wedding Day's website.
Speaking of tickets, I have two to give away so if you're planning a wedding and would like to attend either leave a comment or send me an email.