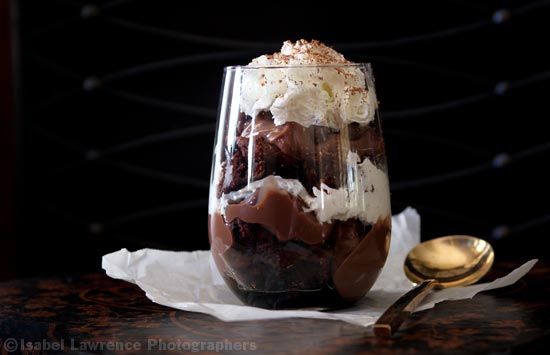 If you've made the cake featured in my previous post, then you will have found that you are left with perfectly good but extra pieces of cake from the tops that you cut off. A trifle is the perfect way to save those extra bits.
This is my mother's recipe. She made this at every big family celebration when my sister and I were growing up and now our husbands love it as much as we do. Being a busy mom, she made hers with store bought ingredients so to keep the recipe authentic, I did too. (Except for the cake in this instance, but by all means, if time is tight, buy yourself a small chocolate cake at your local supermarket.)
Your ingredients are:
Kahlua, chocolate cake, chocolate pudding, chocolate chips and canned whipped cream.
All you are doing is assembling…
•First break up a few pieces of cake and place them in the bottom of your trifle bowl or cup. By using a cup, you can omit the Kahlua if you are serving this to children.
•Pour a splash of Kahlua over the cake bits
•Plop a bit of chocolate pudding over the cake
•Sprinkle a few chocolate chips over the pudding
•Spray a layer of the whipped cream
•Repeat all of these steps until you reach the top of your serving dish.
I'll usually finish my trifles off with a sprinkling of grated chocolate but chocolate chips would look really charming too.
I hope you'll try this easy, delicious recipe. This may just become your family's favorite!