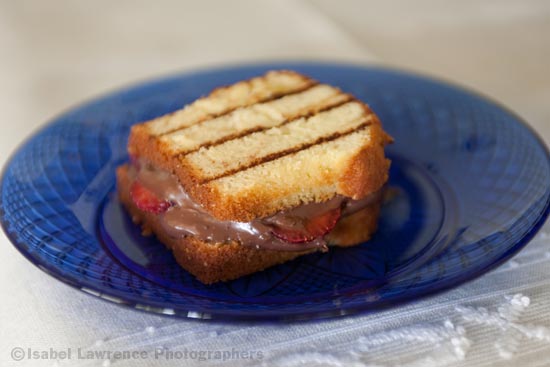 It's Mother's Day tomorrow and I thought you might like to indulge your mom with something sweet.
I first saw Giada De Laurentiis make this on her cooking show and it brought me right back to when I was a little girl. My grandmother would make chocolate sandwiches for my sister and me as an after school snack. This is a decidedly more upscale version than the Hershey's and white bread of my youth so I know you and your mom are going to love it.
You only need a few simple ingredients:
Nutella
Fresh strawberries, washed, hulled and sliced
Pound cake
Butter flavored cooking spray
Heat a cast iron pan or panini grill until it's nice and hot
Slice the pound cake into 1/2″ slices
Spread a generous amount of Nutella on two slices of pound cake
Top 1 slice with a mound of strawberries and cover with the other slice to make a sandwich
Spray your pan or grill with the butter cooking spray
Grill until the pound cake is golden brown and the filling starts becoming gooey. Flip it over and brown the other side.
Slice in half and try to hold off eating them until you've had a chance to share them with your mom!