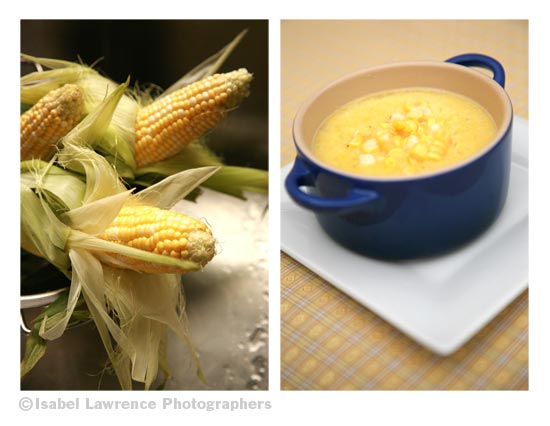 Larry and I had this delicious sweet corn soup at one of our favorite restaurants: Napa Valley Grille, in Westwood. After practically inhaling my soup I mentioned to the waiter that it was one of the tastiest things I had ever eaten. He politely said he would be sure to let the chef know, cleared my plate and went about his business. A few minutes later who should appear at our table but the chef! He wanted to let us know how pleased he was to hear that we were enjoying our meal. I gushed on about the soup and asked if he would share the recipe. I expected him to laugh off my request but instead he explained that he didn't work with recipes per se but to leave our email with the waiter and he would see what he could do. I almost fell out of my office chair when a few days later this recipe was in my in-box. I mean who would ever expect a chef of this caliber to take the time to write out a recipe and email it to a total stranger? I was beyond blown away! So without further ado, I would like to share it with you.
This recipe yields approximately 4 cups of soup.
4 Ears of corn. Cut kernels from cob and save the cobs for the corn broth
6 Green onions. White part only. Save the green part for the corn broth
1/2 Onion, finely chopped
1 Garlic clove, smashed
1 1/2 Cups of heavy cream
1oz Butter
1oz Extra virgin olive oil
TT Sea salt and freshly ground pepper
Corn Broth
In a large stock pot add the corn cobs and the green parts from the green onion to 4 cups of water. Bring to a boil then let simmer while you prepare the onion and corn mixture below.
Onion Corn Mixture
Sweat (no color, low heat) onion, green onion and garlic with the butter and olive oil. Add corn and cook for several minutes. Reserve approximately 4 tablespoons of the onion corn mixture for garnish.
Once the corn broth has reduced to about half, remove the cobs and green onion from the water. Add the onion corn mixture along with the heavy cream and let simmer for 20 minutes. Season with salt and pepper to taste. Transfer to a blender and blend until it's a consistency that you like. Serve with the reserved garnish.
If you like corn, I'm certain you'll love this soup and if you find yourself hungry in Westwood head over to Napa Valley Grille for a wonderful meal and out of this world service.