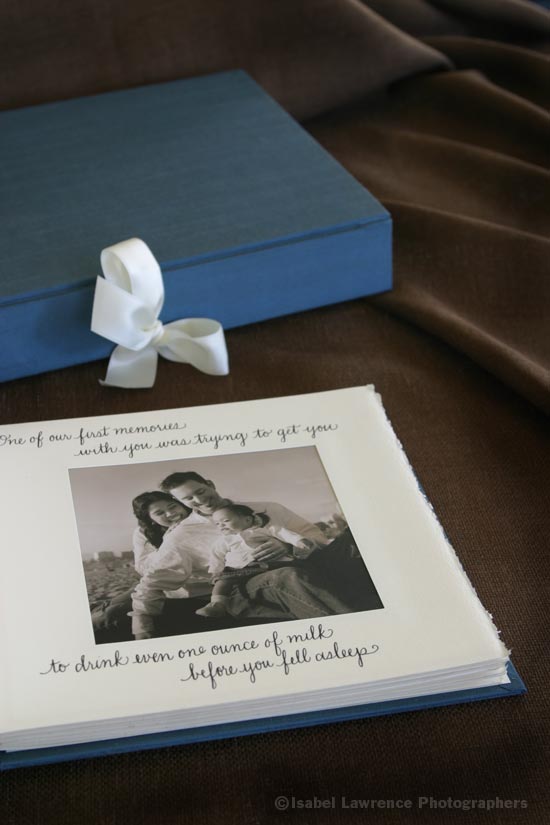 Your wishes, dreams and hopes, bound in a handmade album…
We've had many of you inquire about our hand bound calligraphied books so I thought it would be nice to take you through the process involved in making one of these little treasures.
The first step is of course, the photo session. While it may seem like our main goal is to photograph lots of wonderful images, we are also listening to your family's story. What may appear to be a trivial detail to you now, could be a priceless memory with the passage of time. As we are shooting, we are cataloging these little tidbits to bring up later in our interview.
Once we've reviewed your entire collection of photographs, we begin formulating questions that not only play off the emotions we have captured in our session but tell the unique story of your family.
The interview can be conducted via email and phone or in person. Questions such as: what was the weather like the day your baby was born, or how did you choose her name, can lead us down lots of wonderful avenues. We distill down your answers and match them up with the appropriate image.
Next, we bring your photographs to the bookbinder where they are mounted between sheets of archival watercolor paper. After that, we take a trip to the calligrapher where each of your quotes are carefully lettered on the pages.
The last step is to return to the bookbinder. The pages are then hand bound into a gorgeous silk and ribbon album.
You may think this is a lot of trouble to go through, especially in this world of Photoshop and quickie uploaded photo albums, and yes, you're right, putting this together does take quite a bit of effort and of course, it could be done completely electronically but in our opinion, a one of a kind art piece trumps press printing any day. Besides nothing beats the feel of turning luscious watercolor pages or running your finger over lovely raised inky lettering.
These albums are also perfect to showcase the images from your engagement sitting. They make wonderful guest books at wedding receptions. It would be so much fun to create one for a beloved pet. Any takers?