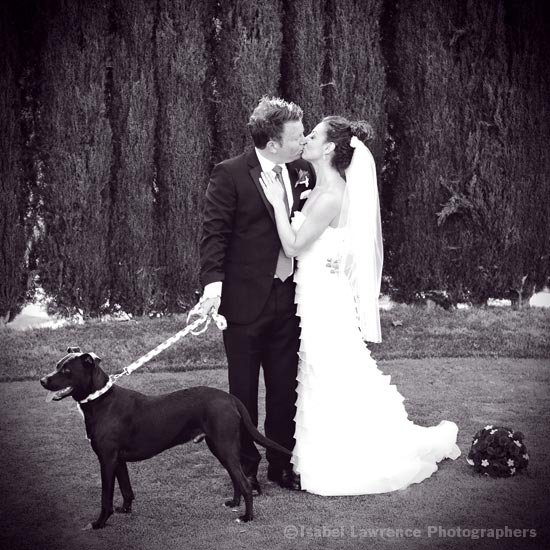 Red and teal…with a wonderful color palette like that how could this not be a fantastic wedding? I know what makes an event really special is the warmth of the people and not the pretty "stuff" but trust me, there was plenty of warmth to go around on this day so I am going to draw your attention to all of the whimsical, lovely elements.
First of all, I love a bride who brings props to her wedding. Susannah had a lot of fun collecting charming birdhouses, banners and signs and we had a blast photographing them.
Her super cute red shoes looked so great peeking out from under her gorgeous Pronovias gown and the gentlemen were equally well shod with their snazzy red socks. Even Truman the dog was decked out in a matching leash! We've seen our share of dogs at weddings over the years but I'm going on record as saying that Truman was the most well behaved, not to mention handsome of the bunch. He and I bonded during the ceremony. I took one look into those chocolately brown eyes and I was a goner.
Kate Baker did a stellar job with the florals. This color combination was so fresh and unexpected. The teal accents really set off the deep luscious color of the roses and dahlias.
The Skiff's Bakery cake was really special too. Have you ever seen a cuter topper?
Larry and I had never photographed an event at the North Ranch Country Club before but Rachel Gluckman and her staff made us feel so welcomed, it was like we had been working together for ages. It's always such a pleasure feeling like you're a valued member of the team and Rachel couldn't have been more helpful and accommodating.
Susannah and Mark, from the moment we met you, we knew you would be a wonderful couple to photograph. Your love for one another is so obvious and your sense of humor and fun is positively infectious. Larry and I loved the time we've spent with you. We hope you love your photographs and we look forward to the fun part of creating your perfect album!