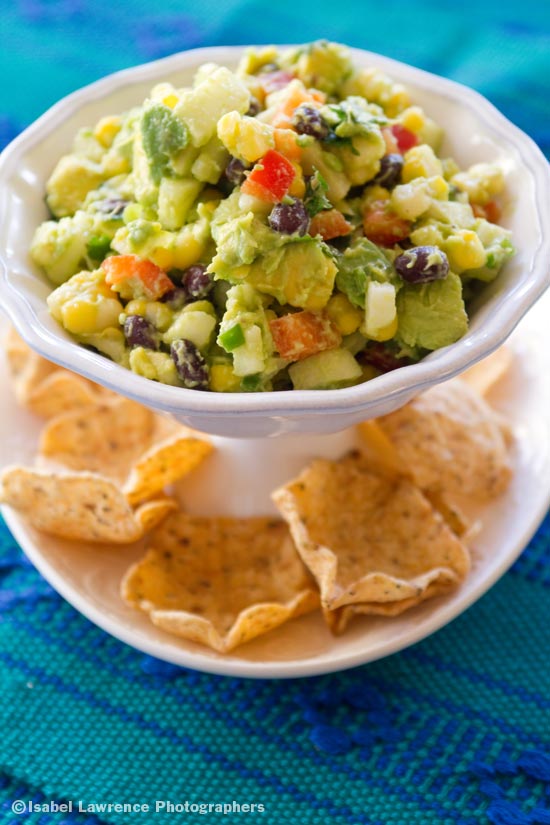 Do you love guacamole? That's a silly question, who doesn't love guacamole? It's the perfect opening act for most summer dishes. We make it so much at our house at this time of year that I go into Pavlovian-like distress if I smell the coals smoking in the grill and don't have a bowl of it in front of me to dip into.
I thought I had tasted every possible permutation of this dish until recently when Larry and I stopped into a California Pizza Kitchen after a shoot and spied Sweet Corn Guacamole on the menu. We ordered it, loved it and now I am sharing my version with you.
 Here's what you'll need for 4 people to snack on:  
 Two avocados 
Juice of half a lime 
One ear of sweet white corn, uncooked 
Two tablespoons of drained and rinsed black beans 
Three tablespoons finely chopped jicama 
Three tablespoons finely chopped red bell pepper 
Half of a serrano pepper 
Two teaspoons finely chopped scallions, green parts only 
One tablespoon fresh cilantro 
Salt to taste
The beautiful thing about making guacamole is that you can adjust and play with the recipe to suit your taste. For example; if you like it hotter, add the whole pepper. If you're like me and love cilantro, add it liberally. This fresh, sweet take on a classic is sure to be a winner at your house. It is at ours!
Comments Off

on Sweet Corn Guacamole