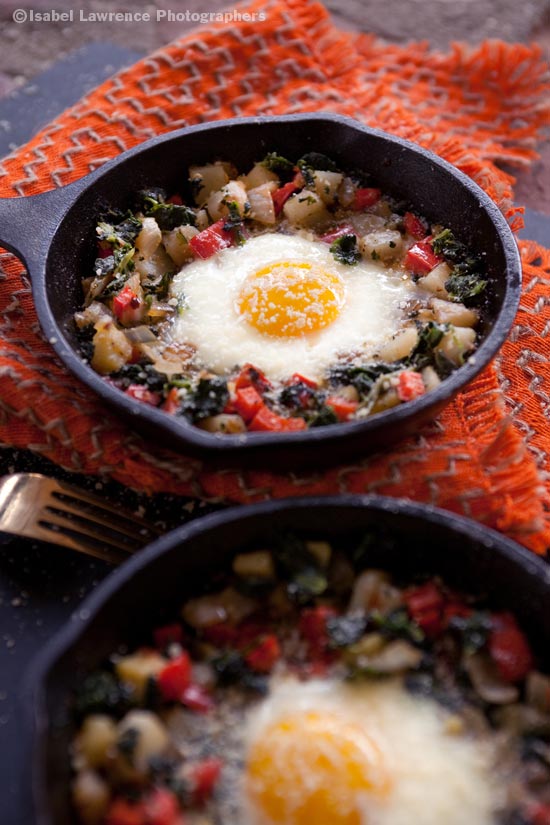 Weekend mornings are made for hearty, scrumptious dishes like this one. Plus, cooking this hash in the same pan that you serve it in cuts down on cleaning, leaving you more time to linger with your paper and coffee.  
Here's what you'll need for 2 servings:
4 small fingerling potatoes 
1/2 of a yellow onion 1/2 of a red pepper 
1 tablespoon unsalted butter + half tablespoon reserved 
1/4 cup of frozen spinach, squeezed of all liquid 
2 eggs Parmesan cheese 
Red pepper flakes 
Salt & Pepper  
Here's what you do:
Boil the potatoes for approximately 5 minutes until fork tender. Drain and cut into 1/4″ pieces
Chop the onion and red pepper into 1/4″ pieces
Heat your cast iron skillets over medium heat (If you don't have individual skillets like these, use a large one. A regular frying pan works fine too just double the amounts)
Melt butter in skillets
Add onions and red pepper and cook for a few minutes
Once vegetables start to color, add potatoes
Season with salt, pepper and a dash of red pepper flakes
Once potatoes turn golden brown, add the spinach
Make a well in the middle of each skillet
Add half of your reserved butter to the wells you've created and drop in an egg
Turn the heat down to low and cook until the whites are set but the yolks are runny
Top generously with Parmesan and dig in!
If you like this recipe, you might also enjoy making my Dad's famous French Toast.