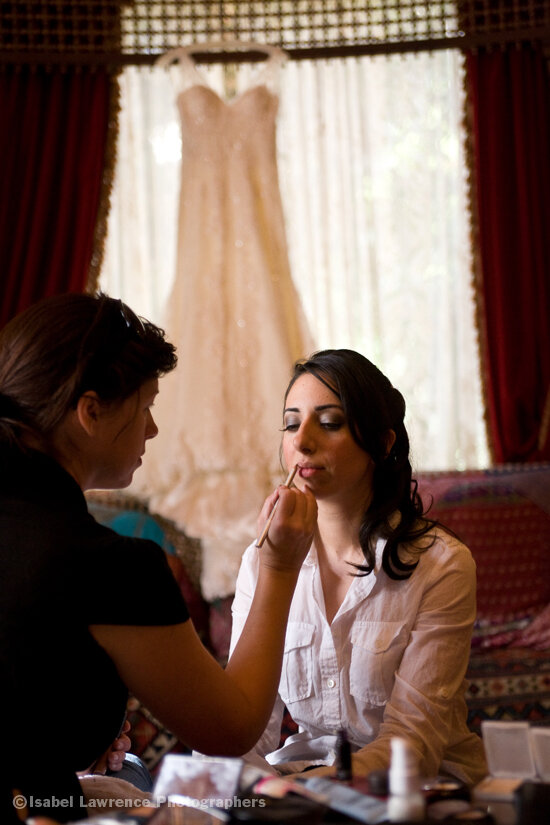 I've had the pleasure of working with Cathryn Van Breen, founder of The Studio Agency for many many years. Yes, she is a very talented makeup artist who brings out the very best in her clients but she's also tremendous fun to be around and so inspiring as both an artist and business woman.
I recently sat down with Cathryn for a cup of coffee and inevitably, talked turned to all things makeup. I asked if I could share some of her wisdom with you and she was gracious enough to comply.
Why is it so important to hire a professional to do makeup on your
wedding day?
Hiring a Professional makeup artist on your wedding is one of
the best things you can do for yourself as a bride, not only will it make
your day more relaxing being pampered, it is the calmest you will be prior
to the actual start of the wedding, taking that hour with your eyes closed
and a pro working on your face will ensure that you are picture perfect
through out your wedding, as well as chilled out!. In addition, the pros
know what is going to look best on camera and can bring out your very best
features and your own natural beauty.
What should a bride do in the weeks leading up to her big day to ensure
her skin is looking its best?
If you're going to have a facial do it 2 weeks before your wedding
to make sure you don't have any reactions.
Booking a hydrating and relaxing facial a day or two before you wedding is a
perfect way to ensure your skin is healthy, hydrated and supple looking. A
good steam will also help to loosen up any debris or clogged pores, use a
gentle facial exfoliater the night before to get rid of tired dull looking
skin. Follow up with a hydrating crème. One of my personal favorites is
Clinique's Moisture Surge, an intense fortifying hydrator.
What is the one makeup essential we should have in our purses at all
times?
This beauty essential differs for everyone and typically depends on
your own individual skin and features. When working with clients I
typically recommend their own individual 3 "must haves". Or "don't leave the
house without it". This can range from an eyebrow pencil, to mascara to a
bronzer to a bright lip color. If I had to pick just one item, I would say
a bronzer – you can use it multiple ways, as a bronzer all over, as a blush,
or even an eye shadow crease.
Do you have any tips for keeping makeup fresh all day?
I love Laura Mercier's product, Secret Finish, it helps the makeup last all day and you
can pat on top of makeup throughout the day to keep makeup and skin looking
refreshed. This secret step will help to set makeup and leaves the skin with
a youthful glow keeping skin looking and feeling refreshed and smooth. You
will have the youthful glow all night long!
Hope you found these tips as useful as I did! Have a beautiful weekend.
Comments Off

on Great makeup tips from Cathryn Van Breen